ZZZZZ
PlayAlong
UUUUU
GGGGG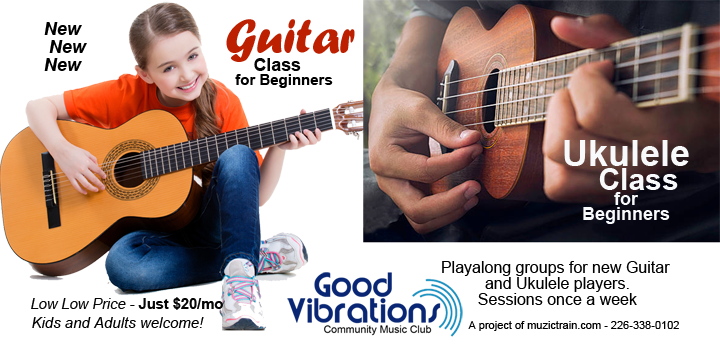 What is the Good Vibrations Music Club?
The Good Vibrations Music Club is an online club for people who love music and want to learn how to play guitar or ukulele. The GVMC is organized and sponsored by Muzictrain.com. Visit our Facebook page here.
Membership
Membership is open to all who are interested and want to learn further about playing the Ukulele, Guitar, or other musical instrument.
Good Vibrations members may participate in all regular classes and playalong sessions* as these are made available. Special courses for guitar and ukulele beginners are also included. Classes and sessions are available for different levels of musical experience from beginners to more advanced.
Live Zoom Sessions
All guitar and ukulele sessions and special topics to help learn the guitar or ukulele are available online as either video content, recorded sessions, or as live Zoom sessions. Members may participate in live groups where available, or online. Helpful information in also available on our blog - Good Vibrations.
Current groups include - Guitar for Beginners - Ukulele for Beginners - PlayAlong for Everyone